BMP Thermal Design
Cooling design for BMP
The power modules operate in a variety of thermal environments; however, sufficient cooling should be provided to help ensure the reliable operation of the unit. Considerations include ambient temperature, airflow, module power dissipation, and the need for increased reliability. A reduction in the operating temperature of the module will result in an increase in reliability.
The maximum shell temperature of the module power supply with the housing does not exceed the maximum Operating temperature allowed.

When BMP is in device housing, the operating environment temperature of BMP is the local ambient temperature around BMP, not the ambient temperature of the device. Therefore, the ambient temperature around BMP is necessary to be monitored under practical application conditions, usually the measured temperature may be higher than the Pre-planned temperature.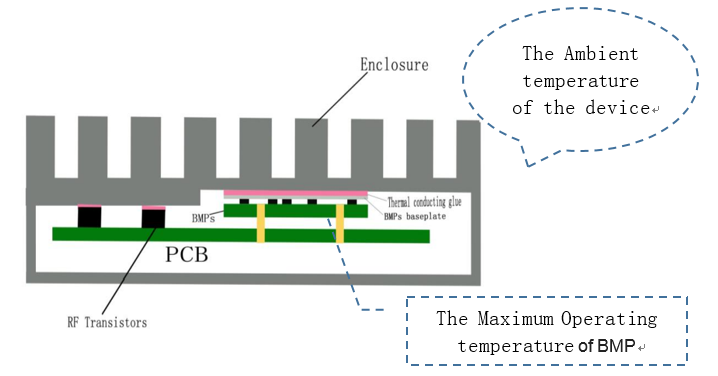 Even if the theoretical calculation or actual test shows that the BMP operating shell temperature (or baseplate temperature) will not exceed the "maximum operating shell temperature", It is recommended to provide adequate auxiliary heat dissipation for the BMP without affecting the overall design of the system (such as pressing the device box wall, adding heat-sink, etc.)., make the BMP operating shell temperature lower, improve reliability. The thermal surface requirements of BMP vary depending on the final product design, and please contact SUPLET technical support engineer when designing.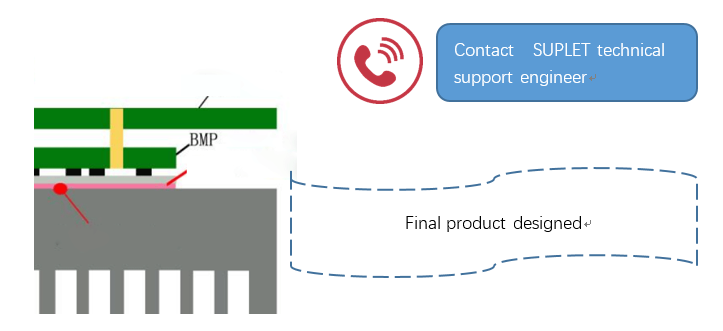 After the completion of the design, it is necessary to monitor and verify the BMP shell temperature under the actual maximum ambient temperature conditions of your end-product to ensure a certain BMP derating